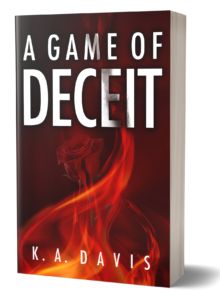 My Inspiration for the Story
I've always been an avid mystery reader and liked the idea of writing. I'm the only person I knew in college who turned in a twenty-page essay when only five pages were needed. So fast forward to my late thirties… I decided to write a mystery. I think part of it was a bit cathartic and I based Kathryn's father's disappearance on my own father. Not that there was anything mysterious about my dad disappearing… it was the usual… another woman kind of thing. But, he certainly added to the drama by packing everything up, leaving no note, and taking off the very same day I came back for my first visit after moving away. So, like many mystery authors who use details from their life as "material", I used that as a "what if" to build the plot. When my first marriage fell apart, I wanted my then husband to just up and disappear (along with his new girlfriend) so... "material" for my story. A good lesson for the rest of the world… be careful or you just might go in someone's book! Please be aware that all circumstances and characters in my book are pure fiction.
Learning to Write
I started writing and realized I didn't have a clue how to construct a book. I set my novel aside and took a children's writing course (from online Institute of Writing). Scratch head… children's writing? I thought I'd start with something easy... while it wasn't as easy as I thought it would be, it turned out to be good practice. However, I ended up having several children's nature articles published in a variety of magazines and found I greatly enjoyed it. Then my first granddaughter was born and I put all writing aside for a while to focus on her, especially once we found out she has Rett Syndrome. My time spent with both my granddaughters is something I wouldn't trade for all the world! When the girls were in school full-time I picked up my suspense novel again and started writing, only to discover I still didn't know what I was doing so took more classes. After a two-year writing course, this time with the focus on novels, I started writing my book again.
Some Behind the Scenes Tidbits
More of what went into writing - and finishing - The Game of Deceit.
What Made Me Finish
This time around I made it to about 75% of the way through the book before self-doubts took over. Did I really know what I was doing? I went to writing conferences and writing retreats to gain more knowledge, which helped. But what really pushed me to be able to write "The End"? A bribe. I can't even remember what it was that I wanted but my husband, Dan, told me if I finished the book he would buy it for me. And clearly it worked! Dan has also been my biggest supporter, an enthusiastic encourager, and I know I would not have had the confidence to do this without him.
Next Steps
I spent the next few years doing my rewrites, found an agent, did another rewrite, and received wonderful, detailed comments from a few publishers but no takers. During that time I started my blog, Cinnamon, Sugar, and a Little Bit of Murder. I love the variety it offers: baking, photography, reading and writing all in one package. But my book was still in the back of my mind and I started another rewrite. Working with so many amazing authors for my blog I was able to see what worked for them, how the publishing and marketing side of books operated, and decided to release the book on my own. I have received such whole-hearted support with practical guidance from so many wonderful people that I can never say thank you enough!
Writing Practice
Please, please don't use my writing practice for your own… it's a pitiful practice, although it's better than not writing at all. When I sit down to write, it's a writing binge, often ten to twelve hours at a time, and then I don't write anything for a long, long while, like months. And since I wait so long in between my writing sessions I end up rereading and editing before I start writing again. However, in between writing binges I have a notebook in which I jot down scene ideas and where I think I want my book to go. Characters often have other ideas when I actually do get back to the story and completely surprise me with the direction they want to take. Sometimes I have to admit I don't really like the direction they want to take, but (I hate to say it) it's always worked out for the best.
Intrigued?
Order A Game of Deceit now