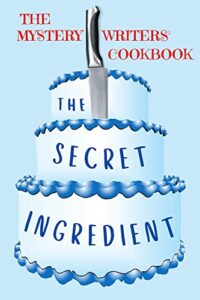 What's cozier than a cup of tea, a warm fire, and drooling over the mouth-watering food featured in your favorite mystery novels?
Some of today's most exciting mystery writers invite you to take a behind the scenes peek into their characters' kitchens where, among the stashed poisons, the sharpened knives, and the recipes for murder, the secret ingredients for their killer recipes are all spelled out.
Recipes from Andrea J. Johnson, G.P. Gardner, Rose Kerr, Lori Robbins, Jen Collins Moore, Judy L. Murray, Genevieve Essig, Grace Topping, Linda Norlander, Allison Brook, Judith Gonda, Lena Gregory, Kim Davis, Jackie Layton, Heather Weidner, and Colleen J. Shogan. Compiled and edited by Dawn Dowdle.
Looking for delicious recipes from cozy mystery authors?
Order THE SECRET INGREDIENT now