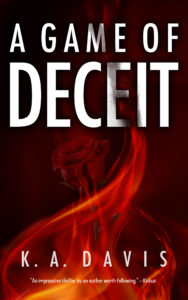 A father's disappearance never solved, a mother's secret taken to the grave, a daughter deceived…
Kathryn Landry thinks her life is just about perfect. She is the owner of a successful interior designer business in Newport Beach, California, and she has an attentive, supportive husband. But her world comes crashing down when her husband, Neil Landry, vanishes without a trace… in a situation almost identical to the disappearance of her father twenty years before.
With her father's disappearance still a mystery, Kathryn is skeptical that the detective assigned to her case will be able to find her husband. Determined to uncover the truth, Kathryn is plunged into a world of politics, high-priced call girls and wealth. As she begins to search for her husband, a decades-old secret her mother took to the grave threatens to destroy all she holds dear. Caught up in a web of betrayals and deceit, and not knowing who to trust, Kathryn must find a way to survive as she discovers the past has a way of repeating itself.
Looking for a suspense read?
Order A GAME OF DECEIT now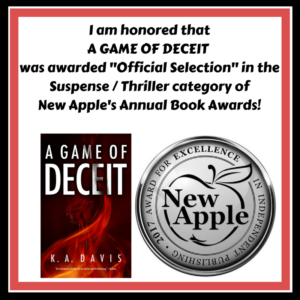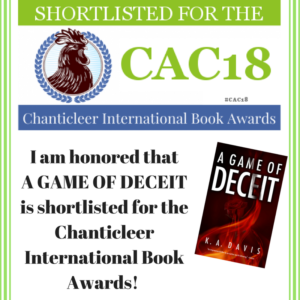 Editorial Reviews for A Game of Deceit
"...Davis deftly keeps readers as up in the air as Kathryn throughout this well-crafted tale. An impressive thriller by an author worth following." – Kirkus Reviews
"In A Game of Deceit author K. A. Davis offers up a taut, edge-of-your-seat suspense novel that will make you lock the doors, close the blinds, and wonder who you can truly trust. Don't miss this great debut from Ms. Davis." – Paige Shelton, New York Times Bestselling author of the Farmers' Market, Country Cooking School, Dangerous Type, and Scottish Bookshop mysteries.
 "In A Game of Deceit, K. A. Davis has crafted an emotional suspense with a taut, satisfying ending that should delight any fan of Mary Higgins Clark."  – Daryl Wood Gerber, Agatha Award-winning author of three cozy mystery series and the stand-alone suspense novels, GIRL ON THE RUN and DAY OF SECRETS. 
"Sly, sexy and spellbinding, A Game of Deceit grabs you in the first chapter and doesn't let you go until its breathtaking finish. Debut author K. A. Davis creates a riveting tale of betrayal, family, suspense and murder." – Jenny Kales, author of The Callie's Kitchen Mystery series
"A Game of Deceit is a marvelous read packed with action, suspense and intrigue. I couldn't put it down!" – Catherine Bruns, USA Today Best Selling Author of the Cookies & Chance mysteries