Cowgirl Cookies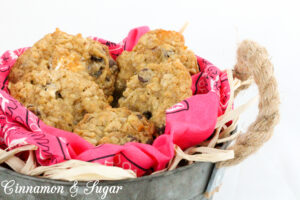 Ingredients
1-1/4 cups (6.25 ounces) all-purpose flour
1 teaspoon baking powder
1/4 teaspoon baking soda
1/4 teaspoon ground cinnamon
1/2 teaspoon salt
1-1/2 cups (10.5 ounces) packed brown sugar
3/4 cup butter melted
2 eggs
1 teaspoon vanilla extract
1-1/4 cups (3.75 ounces) old-fashioned rolled oats
1 cup (4.4 ounces) walnuts, chopped
1 cup (3 ounces sweetened) shredded coconut
1 cup (6 ounces) semisweet chocolate chips
1 cup (2 ounces) mini marshmallows
Instructions
In a medium-sized bowl, whisk together and set aside the flour, baking powder, baking soda, cinnamon, and salt.
In a large bowl, combine the sugar, melted butter, eggs, and vanilla. Mix in the flour mixture and, once it is fully incorporated, stir in the oats, walnuts, coconut, marshmallows, and chocolate chips.
Refrigerate for 1 hour.
Preheat oven to 350 degrees (F).
Portion the dough into 2 tablespoon-sized scoops and place on parchment-lined baking sheets. Make sure there is at least 2 inches between cookies to allow room to spread.
Bake cookies, one sheet at a time, 12-15 minutes, until edges start to turn golden brown. The centers should remain slightly undercooked. Rotate the baking sheet halfway through baking.
Remove from oven and allow cookies to cool on baking sheet for 5 minutes then place on a wire rack to cool completely.
Store leftovers in an airtight container for up to 4 days.