Gimlet Cupcakes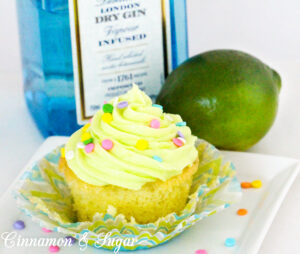 Ingredients
Cupcakes
1-1/4 cups (161g) cake flour
1-1/4 teaspoons baking powder
1/2 teaspoon baking soda
1/2 teaspoon salt
2 eggs, room temperature
1 cup (200g) granulated sugar
Zest from 1 lime
1/2 cup vegetable oil
1/3 cup gin
3 tablespoons fresh lime juice
1/8 teaspoon pure lime oil, optional
Glaze
1/2 cup (64g) confectioners' sugar
2 tablespoons gin
2 tablespoons lime juice
Zest from 1 lime
Frosting
4 cups (506g) confectioners' sugar
1/2 cup (113g) unsalted butter, room temperature
1/4 teaspoon salt
1 tablespoon fresh lime juice
3 tablespoons gin
1/8 teaspoon pure lime oil, optional
1 drop mint green and 2 drops yellow gel food coloring, optional
Garnish Suggestions
Fresh lime wedges
Candied lime peel
Lime fruit gel candies
Sprinkles or candy confetti
Instructions Cupcakes
Preheat oven to 350 degrees (F). Line cupcake tins with paper liners.

Whisk flour, baking powder, baking soda, and salt together in a small bowl. Set aside.
Whisk the gin, lime juice, and pure lime oil (if using) together. Set aside.
In the bowl of a standing mixer, whisk the eggs on medium speed for 30 seconds.
Add the sugar and the lime zest and continue to whisk an additional minute.
With the mixer running on low, slowly add the vegetable oil. Increase mixer to medium and whisk an additional minute.
Reduce mixer speed back to low and add half the flour mixture to the sugar mixture. Beat on low until mostly incorporated.
Add half the gin mixture and stir to combine.
Repeat with remaining flour and gin mixture and beat until smooth, about 30 seconds, scraping down the sides of the bowl as necessary.

Fill cupcake liners about 1/2 – 2/3 full. Batter is quite thin, and I like to use 1/4 cup measuring cups for filling liners. Bake 12-15 minutes. Edges will be slightly golden and a wooden skewer inserted into center should come out clean.

Remove from oven and allow to cool in the cupcake tin for 5 minutes.
Move the cupcakes to a wire rack and immediately proceed with glaze.
Glaze
Whisk together the confectioners' sugar, gin, lime juice, and lime zest.
Pierce each warm cupcake 4 times with the tines of a fork.
Brush the glaze over the cupcakes, allowing the liquid to soak in before applying more. Be sure to use all the glaze.
Allow the cupcakes to cool completely before proceeding with the frosting.
Frosting
Place butter and salt into the bowl of a standing mixer and whip until the butter is creamy, approximately 2-3 minutes on medium-high speed.
With the mixer running on low speed, add confectioners' sugar a little at a time, mixing until sugar is coated with the butter.
Whisk the gin and lime juice together along with the pure lime oil and gel food coloring if using.
Once the butter and sugar mixture is creamy, slowly add the gin mixture.
Increase the speed to medium-high and whip for approximately 5 minutes until the frosting is light and fluffy.

Frost the cupcakes and garnish if desired.

Makes 15 cupcakes